Meet Dr. Dustin Sonday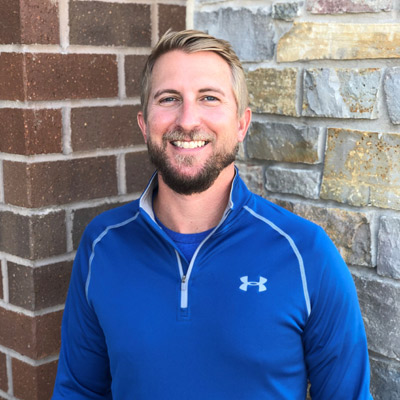 I love being able to serve and help people in a natural way. For me, it's important to build a great rapport with patients and let them know they can count on me to help them–not only with different complaints, but also through healthy lifestyle habits.
Dr. Dustin was drawn to join the Elite Chiropractic team because his and Dr. Scott's philosophies aligned. Dr. Dustin enjoys being a family wellness based chiropractor who doesn't just focus on pain relief, but also on getting people healthy and well, which enriches their lives.
Experiencing the Effects of Chiropractic
As a young teen playing ice hockey, Dr. Dustin was first introduced to chiropractic care when he got injured. At the time he got hurt playing, his dad was seeing a chiropractor for general wellness care. "To get help, my dad brought me along to one of his visits, which piqued my interest in chiropractic."
Intrigued by what he learned from the chiropractor, Dr. Dustin liked the whole concept of how chiropractic works and what it does. "Learning about chiropractic opened up my eyes to a different way of health and healing that also includes a wholesome diet, plenty of sleep and regular exercise."
Dr. Dustin also got excellent results as the chiropractor got rid of his neck pain!
Chiropractic Education
In 2012, Dr. Dustin earned his Doctor of Chiropractic from Palmer College of Chiropractic in Davenport, Iowa. While at Palmer, he participated in a life-changing clinic abroad program. He and other students traveled to Brazil and for several weeks cared for hundreds, if not thousands, of people of all ages, and with many conditions. "They were thankful that we were there to help them."
Offering More Than Pain Relief
"As chiropractors, we empower people and give them hope; we let them know that chiropractic isn't just an option for relieving musculoskeletal pain, but a lifestyle." In addition to adjusting patients, Dr. Dustin also provides advice about diet and nutrition, supplements, exercise and ergonomics.
He is certified by the Wisconsin State Board for nutritional counseling, which allows him to provide nutritional advice and sell supplements.
Taking the Time to Listen
Friendly and caring, Dr. Dustin always takes the time to listen to patients and empathize with them. He wants to learn about their daily life and what stresses they might be experiencing. Then Dr. Dustin will provide appropriate insight and advice. "We want our patients to have the best experience possible, and that includes ensuring they're heard and well taken care of."
Enjoying an Active Lifestyle
When he's not at the practice, Dr. Dustin loves staying active. An outdoors enthusiast, he enjoys hiking, biking, swimming, running, and spending time at the beach and enjoying the sun. He also likes to golf, snowboard in Colorado, play volleyball and travel.
The proud father of two children, Dr. Dustin enjoys spending time with them and watching them participate in their favorite activities. His older daughter plays soccer and softball, and his younger daughter participates in dance and gymnastics.
Book an Appointment
Contact us today to schedule an appointment with Dr. Dustin!

Dr. Dustin Sonday | (608) 825-7071